Overview
MIET considers its Alumni as ambassadors of its high ideals. A strong and affectionate relationship is sought to be established with Alumni to create a vibrant community network which aids in institution building. The Alumni of MIET today occupy high positions in industry and academia with some of the top multi-nationals and high-ranking international universities. Over 400+ alumni of MIET work overseas, which is a significant number.
---
Our Distinguished Alumni's

---
Connexions - Alumni Association
Connexions is the official Alumni Association of MIET which has been formally registered in 2016. The association will serve to further the interests of the student/alumni community of MIET through several key initiatives. It is envisioned to become a significant stakeholder in creating a strategic future direction for MIET. As a first step, many of the senior alumni have been drafted in to serve on the Advisory Boards for individual departments. In 2015, a Bengaluru Chapter of the Alumni Association was established. It is planned to set up small alumni chapters in all major cities of India and internationally as well.
Dear Alumni, Kindly register yourself in Alumni Association
Click here
---
Alumni Meet
Alumni Cell, at MIET, is working continuously to create a platform to connect all alumnus, students, and faculty members together for continuous knowledge sharing among all stakeholders. The Cell manages an official profile and College page on the LinkedIn in which more than 1500 alumni, students, and faculty are connected with each other. As a practice, every year Cell organizes Alumni meet in Jammu near the festival of Diwali to felicitate Distinguished Alumni Award Winners and to create a forum for all alumni to refresh their memories of college days. The invitation and registration process starts for alumni meet start well 3 months before the event to give sufficient time for the alumni to plan for the event. For any details regarding various activities performed by Alumni Cell, please reach us at
[email protected]
The last three meets, MIET witnessed more than 300 alumni from various walks of life, enjoying the high position in defense forces, business, and the corporate world attending the event. The alumni were enthralled to see the progress made by the institutions since its inception in 1999. The alumni were excited and volunteered their names for various alumni-related initiatives.
Year 2019 (Click to see more photographs)
Year 2017 (Click to see more photographs) Year 2016 (Click to see more photographs)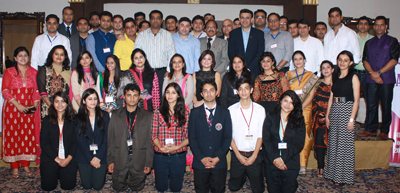 Year 2015
---
Alumni Mentoring Programme
MIET Alumni have started making significant contributions by volunteering to mentor the current batch of students. In the pilot programme, 15 high-achieving alumni are currently mentoring 30 current students with an aim of providing customized guidance and helping them achieve success in their careers. It is planned to roll out the Alumni Mentoring Programme to a larger audience shortly.